Key Employment Updates and Technology Trends in HR 2019 - Events - MDC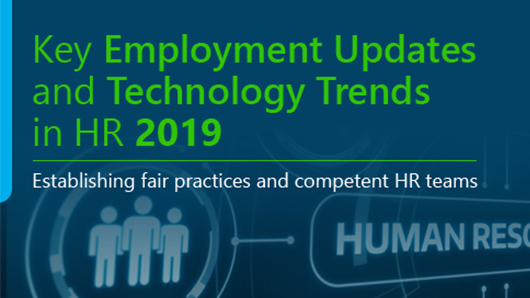 Date:
8 March 2019
Time:
2.00pm to 5.00pm
Venue:
Concorde Hotel Singapore
Fee:
PAT subscribers - S$45.00
Non-PAT subscribers - S$55.00
Event Overview
The HR role is never unexciting. They are often seen as the go to person for everything that is related to employee acquisition, compensation and benefits and not forgetting payroll administration.
They may also have the challenging task of managing employee disruptes when these cannot be resolved through other channels. Another area of importance for HR practitioners is promoting a culture of fair and transparent work practices - especially when employees have access to many sources of information and a heightened sense of awareness.
Led by a panel of experts, HR professionals will learn of new developments which can help them simplify their work processes and practices.
The event will also showcase products and services from our selected HR tech Partners. Many of these provide useful tools to help increase HR productivity and streamline workflows.
These tasks can be time-consuming and cumbersome, leaving HR professionals with little or no time to find smarter and more effective ways of getting their job done. With this in mind, the PAT team has curated a workshop to give HR professionals a quick update on the latest changes to the Employment Act and insights into new HR tech trends.

Agenda
Time
Topic
2.00pm - 2.15pm
Registration & Welcome Note
2.15pm - 2.45pm
Overview of the Amendments to Employment Act (EA) (Cap91)

Goh Seow Hui
Partner, Bird & Bird ATMD LLP

2.45pm - 3.15pm
Sexual harassment - A Case Study

Susanna Nickalls
Director and Lead Trainer for Catalyse Consulting

3.15pm - 3.45pm
Tea Cum Networking
3.45pm - 4.15pm
Snapshot of HR Tech Trends

Adrian Tan
Co-founder of Resource Group and Career
Hero, HR Tech Blogger

4.15pm - 4.45pm
Opportunities for Artificial Intelligence (AI) across Talent Acquisition

Raj Kasi
Chief Commercial Officer, Impress.ai

4.45pm - 5.00pm
Q & A
5.00pm - 5.15pm
Close of Session
Please click here for more information and to register for the event.